With the Internet of Things and smart technologies advancing at lightning speed, hotels can realize both energy savings and guest satisfaction, and the ability to tie multiple technologies into one platform is becoming more desirable by hotel owners and brands alike, according to Chad Burow, director of sales for Telkonet.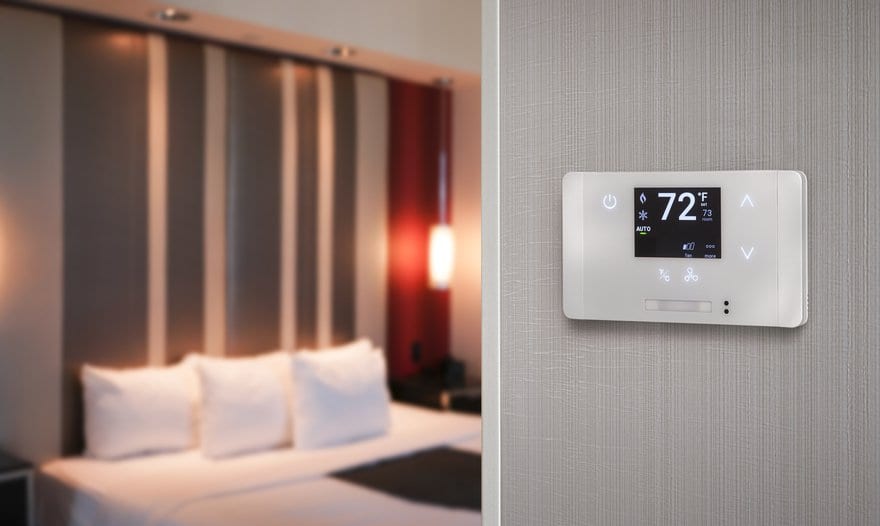 Many hotels are implementing voice-technology platforms in their guestroom. The platform can feature voice-enabled control with devices like Amazon's Alexa that allow guests to change the room temperature, turn lights on/off and easily change the channel on the television.These types of requests extend beyond the guestroom, too. Guests may use voice-enabled controls to make dinner reservations or find out what nearby events are taking place over the weekend.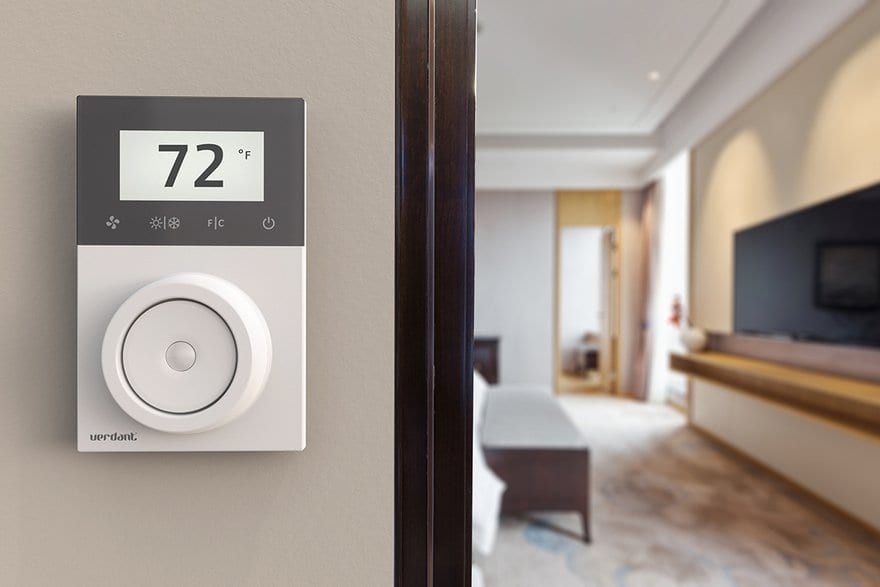 Personalizing the guest experience is critical to earning guest loyalty. Some hotel chains already feature automated check-in via their loyalty apps or guests can unlock their guestroom doors with their smart phones. Loyalty apps are being geared to store guest preferences, such as preferred room temperature, favorite television channel and stocked minibar preferences.
"Intelligent automation providers need to have APIs (application programming interfaces) already developed to meet the demands of hoteliers who are looking to add additional functionality into their loyalty apps," Burow said.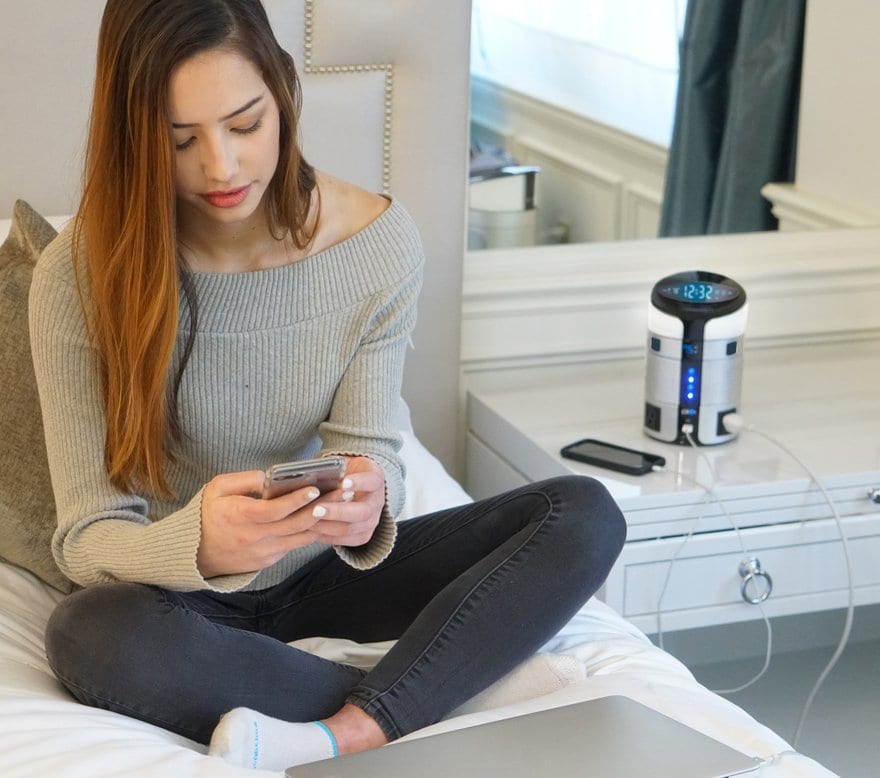 The goal is to provide strong energy management systems that do not sacrifice guest comfort, said Apurv Johari, general manager of Inncom by Honeywell, and the systems should be aesthetically pleasing to fit the room décor and be intuitive to operate, as well. "We believe smart technologies should provide a great user experience that is reliable and secure. We're now seeing a migration of simple and cost-effective technology into mid-market hotels—not just upscale, luxury properties," he said.
Energy management thermostats completely automate energy savings by using motion-/heat-sensing technology to set back the temperature by a few degrees when rooms are empty. Systems often also have a built-in temperature-recovery feature that ensures the guest's preferred temperature is restored quickly upon his or her return to the room. This helps satisfy the owner's desire to save money on energy and aids in ensuring the guest's comfort is never disturbed, said John Attala, marketing director for Verdant Environmental Technologies.
"Hotel staff can access a cloud-based, online management platform that allows them access to quickly modify settings, see real-time occupancy status and receive timely alerts when in-room HVAC equipment may be experiencing maintenance issues," Attala continued. "These types of alerts can help hoteliers prolong the life of their HVAC equipment, while also ensuring that routine maintenance is carried out when rooms are not occupied."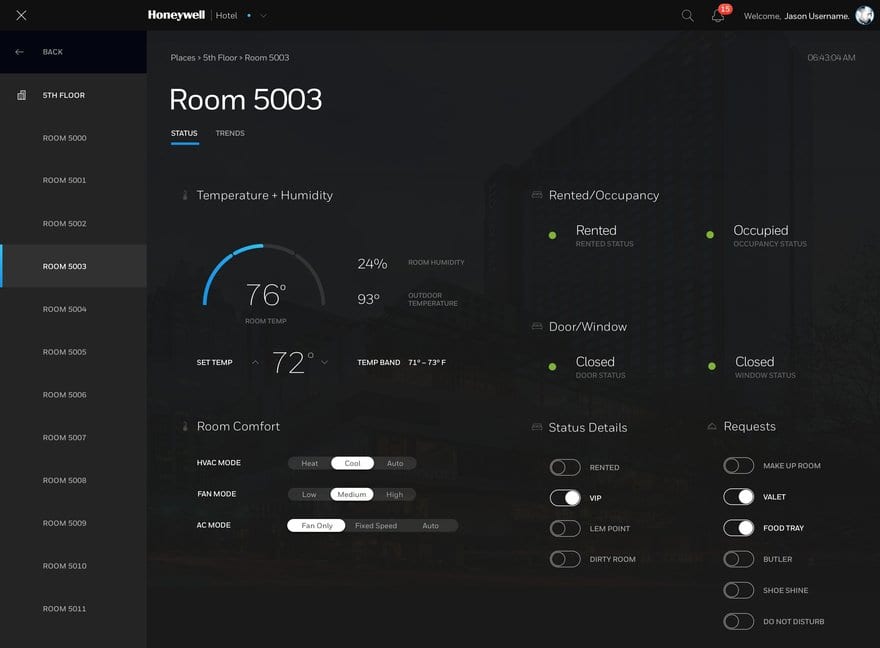 Multi-dimensional systems allow hotels to become more energy efficient by monitoring in-room occupancy via intelligent sensors while extending connected capabilities that enhance the guest experience, said Cirq+ Founder Yani Deros. The combination of the Cirq+ cloud, modular hub and back-end system automatically controls the power usage in each room by rolling back the HVAC and turning off lights when rooms are unoccupied, thereby saving energy. When the guest re-enters the room, the system reverts to the guest's last settings or desired preferences.
These combined systems deliver guests both control of their in-room environment (HVAC, lighting, appliances) while connecting them directly to the hotel via an app or an in-room hub. From their fingertips, guests can order room service, alert housekeeping or SMS the front desk, taking their stay to the next level and giving them a reason to return, Deros said.
Setting environmental goals
With aggressive growth goals, AD1Global, a hospitality development and management company based in Hollywood, Fla., has been focused on balancing its capital between acquiring new locations and retrofitting existing hotels to meet its standards.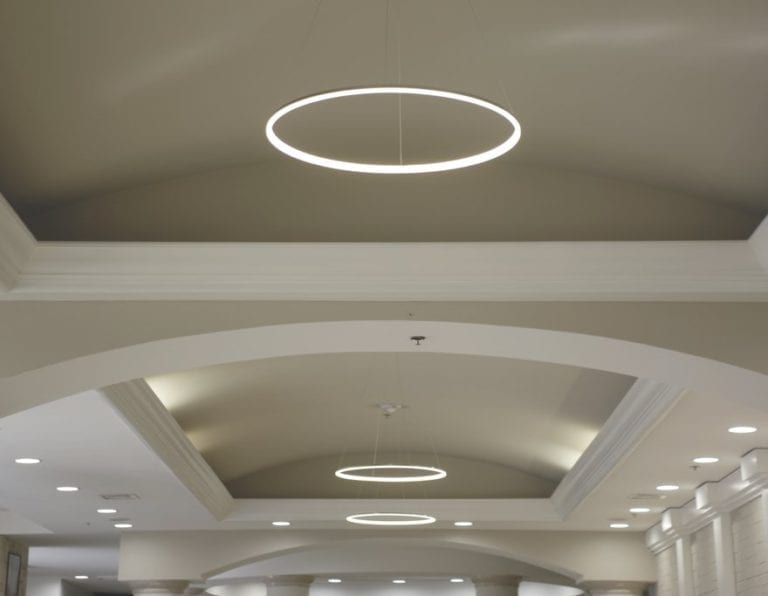 "Part of our standard is to be as environmentally friendly as possible and continually identify and adopt new cost-effective technologies to help achieve this," said AD1 Global President Daniel Berman.
As part of the company's commitment to both the environment and its investors, AD1 Global looked to OnPeak Energy, a Florida-based energy-performance contracting company that works with building owners to evaluate, install and finance energy-saving equipment. OnPeak Energy then turned to Sparkfund, whose technology subscription service allowed AD1 Global to update its critical systems without diverting core resources from the hotels.
Sparkfund brings commercial, industrial and municipal customers a trending method to upgrade their building infrastructure—using a subscription. The wave of subscription business models has been prevalent in other sectors (e.g., Netflix, Spotify, AWS) but only just now is coming to the energy sector.
Subscribers who use the Sparkfund technology subscription can access any number of building energy technologies (LED lighting, HVAC, EV charging stations, refrigeration, etc.). Subscribers pay a fixed monthly fee for their contract term, anywhere from four to 10 years depending on the technology, which includes the installation of the technology and maintenance over the term.
For AD1 Global, Sparkfund installed LED lighting, PTACs, smart thermostats, RTUs and catalysts across several different ADI Global hotels: Wyndham Gardens Tallahassee; Holiday Inn Savannah; Comfort Inn Lake Buena Vista; Quality Suites The Royale Parc Suites; Comfort Inn International Drive; Park Inn by Radisson; and the Holiday Inn Melbourne Viera.
"One of the biggest benefits for AD1 Global has been that the Sparkfund Technology Subscription is a comprehensive solution," CFO Alex Fridzon said. "It saves us time and it saves us money and that is a win-win to the bottom line."
The technology subscription can be rolled out programmatically across a customer's portfolio of buildings. Subscribers do not own the technology being installed, so they don't have to pay cash up front. Sparkfund handles coordination of install and maintenance, and Sparkfund guarantees the function of the equipment during the subscription term, eliminating any risk of choosing bad equipment or sudden failures for subscribers.
"Sparkfund has helped us make sure we can focus our resources where we need to, to make sure we can grow," Berman said. "The more smart leverage we can put up, the less capital we need to use for energy projects, the better ROI that we can give to our investors. And more importantly, the better experience we can give to our guests."
Saving energy by installing a gym
SportsArt's line of cardio equipment, Eco-Powr, allows for the machines to harness up to 74 percent of human energy and turn it into usable electricity—up to 200 watts per hour, per machine. Inside each Eco-Powr machine is patented micro-inverter technology, similar to those found in solar panels and wind turbines.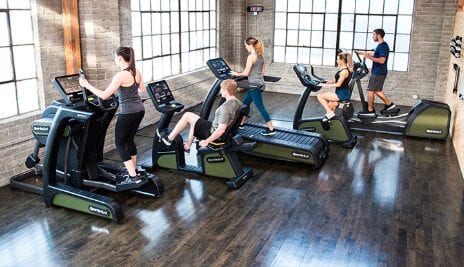 The machine's technology also features the SA Well+ User app to track performance and watts generated; a safe-start belt lock; electronic speed and resistance control; USB charger; and smart-break technology.
The complete line consists of indoor, recumbent and upright cycles, cross trainers, ellipticals and treadmills. Machines are plugged into a standard outlet and wait for users to put the equipment to work. Once the energy is harnessed, the micro-inverter "cleans" the power, and uses the plug-in to feed the energy back to the grid to be used by other devices.
"The Eco-Powr line is a powerful differentiator, largely because the use of sustainable equipment is such a new concept," said Ivo Grossi, CEO/The Americas for SportsArt. "Going green is a great way to attract people, especially millennials, who are known to be the fastest growing demographic of gym users."
The eco-friendly machines not only reduce the consumption of energy, they actually produce it, the company noted, providing users a unique opportunity to reduce their carbon footprint while getting a workout.