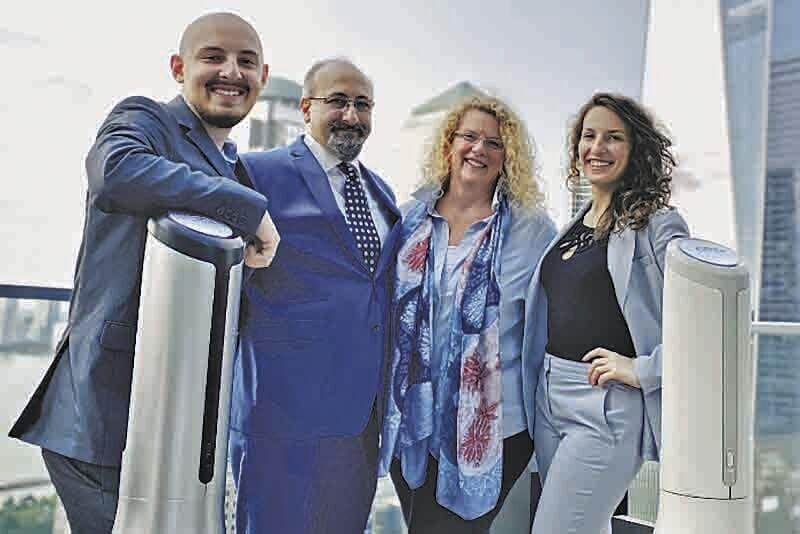 By Paul Maryniak, AFN Executive Editor
As partners in business as well as life, Yani and Jodi Deros have been the parents of invention.
The Ahwatukee couple's company, ATOM, has conceptualized, tested and developed over 300 products for a range of national and global brands from Honeywell, KitchenAid and UBS to Axon, the former Taser International – generating more than $3 billion in product orders over 15 years.
Now, they say, their latest invention, CIRQ+CLEAN, could be the answer to the arduous task of cleaning and disinfecting hotel rooms, offices and even classrooms.
They've already met with leaders in five states to tout Cirq+Clean's potential to effectively – and in touchless fashion – decontaminate classrooms and spare teachers, students and custodians of the arduous task in a matter of minutes.
The year had not started out that way for the 19-year Ahwatukee residents and Boston transplants who base their company in Skysong,  Arizona State University's economic development complex in Scottsdale.
When 2020 began, the Deroses were touting CIRQ+, a mult-functioning hub that resembles a miniature version of the Star Wars robot R2D2 and turns hotel rooms into smart hotel rooms. 
"We have engaged with almost 1,000 hotels and properties around the world to capture their challenges, aspirations and unmet needs that eventually built the foundation of CIRQ+," Yani explained, adding that spending at least 100 nights a year in hotels while traveling for his business got him thinking about the technology in the first place.
"As a result, we found an incredible opportunity to develop a technology solution that could transform any hotel room in the world instantly, modernizing the space with one system."
Depending on the model, Cirq+ allows guests to control thermostats and lights and interface with the front desk and room service.
One benefit of the app, Yani said, is that the user's preferences, such as room temperature, will travel with him or her between CIRQ-equipped hotels.
The technology has benefits for hotel operators, too, enabling them to control energy costs and include thermal occupancy sensors that reduce energy consumption when rooms are not occupied.
As 2020 began, he and Jodi were upbeat about their invention.
"We raised $1.6 million to help us advance this technology and we were going on an incredible tear at the beginning of the year with our second-generation system – and then COVID-19 hit," he said.
Suddenly, travel ground to a halt – and with it the hotel industry.
And, as Yani explained, the couple confronted a decision: "We either sit back and ride this out or we take it upon ourselves to use our smart room technology and develop a solution to take on COVID."
"We saw the devastation that was happening across the world and sitting back in our home, we were saying, 'What are we going to do? You know the future doesn't look so bright,'" Yani explained.
ATOM got to work and by September they were unveiling at a New York City media event CIRQ+CLEAN, a touchless sterilization device that moves around the room on a robot and dispenses an electrostatically-charged mist of an EPA-registered fluid. 
"Because we're technologists and innovators, we started thinking about how can we leverage our smart room capabilities to take on COVID-19 and through a series of internal meetings and brainstorming we leveraged our capabilities and discovered a natural liquid."
The liquid, HOCL or hypochlorous acid, "is a natural substance that is similar to what your white blood cells make to fight off infections and diseases in your body," Yani said, explaining that it has been used since World War II in caring for wounds.
"It's EPA-registered to kill pathogens, including the novel coronavirus," he said. "So we got a hold of the liquid and we started thinking, 'Okay, how do we treat surfaces and spaces that people live in because there's really a lot of uncertainty out there?'"
Once they had developed the spray device, they needed a robot to move it around the room.
"We asked our son to tap into the network at ASU and see what he could pull together," Yani said. "He networked with his friends and brought on three graduates and underclassmen at ASU to help build the robotics portion of the system."
That was around July 4 and by Labor Day, they were ready for the New York City debut.
 The Deroses said hotel operators are excited about CIRQ+CLEAN's possibilities.
For example, it can keep housekeeping staff safe. Once the initial spraying is complete, housekeeping can safely enter the sterilized room to change linens, clean bathrooms, vacuum and complete other tasks. Then, when housekeeping leaves, the hub can be told to spray the room again for the next guest.
The fluid itself is "a superior layer of sterilization," the couple said, not only because of its effectiveness against COVID-19 and other coronaviruses but also because it doesn't trigger respiratory problems like many disinfectants and sanitizers do and because it's safe for children, adults and pets.
It's also inexpensive, Yani said, since it takes only about a quarter of a liter to treat an 800-square-foot room.
The Deroses have their eye on another market as well. With the sheer number of classrooms that school officials have to give extra attention to provide safe environments for students, they're meeting with officials in various states – including Arizona – in the hope of selling them on the device.
Andrew Collins, principal of the Phoenix Modern School said CIRQ+CLEAN has been a Godsend.
"Our challenge is how do we do really big things and important things with a very limited staff," Collins said, adding that he likes the device's effectiveness "and its ability to do it multiple times a day in order to keep our studio spaces as healthy as possible."
Added Yani: "Teachers are on the front lines and they're being asked to do things that they didn't sign up to do and parents are obviously concerned sending their kids back into the spaces. This is a very unique circumstance that nobody ever planned for and we see ourselves as a solution that every school can and embrace and protect the teachers and the students every day."
Deros said not only are states and school systems interested in CIRQ+CLEAN, but so are insurers, especially those that work with schools.
 Deros is working with a multi-billion-dollar company, Arrow Electronics of Colorado, to build a manufacturing facility, preferably in Arizona. He said it takes no more than 90 minutes to put one unit together.
Deros said he's received a number of inquiries as to whether a residential version of CIRQ+CLEAN is in the offing.
"I think that from a commercial standpoint, there's going to be a lot of need and demand in that area and I think eventually in time we could consider that."
 But right now, he and Jodi are focusing on schools and offices.
"There's a real major crisis that's unfolding here and we've got to do something about it," Yani said. "We're just, first and foremost, thrilled to be able to provide a solution to protect the teachers and the students and give parents peace of mind."
Information: cirqplus.com or info@cirqplus.com